▼CATEGORY
→ Site top
Tops others
Camisoles
Blouses
Cardigans
Jackets
Mini long
skirts
Semi-long
skirts
Long skirts
One-piece
dresses
Suits
Pink house
Wedding
Dresses
Cosplay
National
costume
High-school
uniform
Kimono
Wig
Nail Tip
Shoes
boots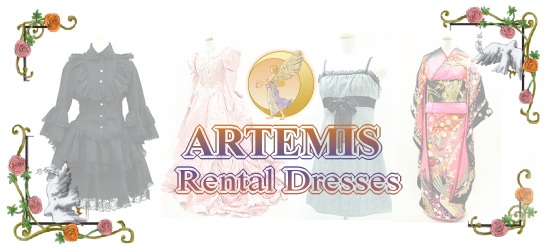 Introduce some of Artemis's rental dresses.
We handle Japanese size 9 to 19 and accept your clothing gladly ( *excluded sexual items).
There are 6000 more than wearing all kinds of clothing, and change to a different set of clothing at the turn of the seasons. About 700 types of Artemis wardrobe always has been the standby for you.


Update
3.Aug.
Shoes boots
23.Jul.
Wig
One-piece dresses
7.Jul.
One-piece dresses
Kimono
22.Jun.
One-piece dresses
National costume
Jackets
28.May.
One-piece dresses
Semi-long skirts
National costume
13.May.
Shoes boots
29.Apr.
One-piece dresses
Semi-long skirts
Mini-long skirts
Tops others
19.Apr.
Cardigans
One-piece dresses
5.Apr.
Tops others
One-piece dresses
Dresses
24.Mar.
Nail Tip
14.Mar.
High-school uniform
Shoes boots
Semi-long skirts
National costume
4.Mar.
Wig
17.Feb.
Jackets
Wig
5.Feb.
Shoes boots
Nail Tip
| | | | | | | |
| --- | --- | --- | --- | --- | --- | --- |
| 春…Spring | | 夏…Summer | | 秋…Autumn | | 冬…Winter |